A few days ago I flew from Philadelphia to Orlando to have dinner with a friend of mine, just in from Africa. The next morning I flew back. It cost me quite a bit of money and most of 2 days. A number of people I mentioned this trip to looked at me askance when they heard it was on my time and expense and there was no specific agenda. Even when I shared the person's name, his very senior position at an extremely well known global company, and the fact that this was someone people were desperate to meet, they still didn't get it.
The dinner conversation covered quite a few topics and left me with many things to consider and ideas to experiment with. My one night at the wonderful Orlando Hyatt Regency provided opportunities to meet several other interesting people, including bartenders, the front desk lady, a concierge, and a guard at the Orlando Convention Center who filled me in on Orlando, told me about their backgrounds, and shared their thoughts about their bosses and their employers.
Even the travel was enlightening On the way in from the airport my Haitian driver and I discussed the situation in his country since the recent earthquake and what AT&T charged him as he called to get reports on missing family members. On my way back to the airport the driver was from Bangladesh which led to discussions about the similar climate to Orlando and dealing with hurricanes and flooding.
On my return flight, I had the pleasure of riding under the care of Bill Pratt, Chief Purser. From the moment he greeted me as I entered the airplane until I stepped into the jetway while leaving, he created an exceptional flight experience. I was so taken by his funny, charming, attentive, knowledgeable, and unflappable ways that I went to the effort of writing an email about Bill to Doug Parker, CEO American Airlines. I wound up with not only a great flight but also a wonderful story about exceptional customer service to share during my next speaking engagements.
It seems perfectly normal to me to hop on a plane for dinner with an exceptional person for the sheer pleasure of having an engaging and stimulating conversation. I often have no idea what might come of a trip or what interesting things may happen during my travels, but from experience I know that so many unexpected encounters, so many non-business meetings, feed into ideas and solutions that turn out to be useful when seemingly unsolvable client issues pop up.
Since most of what I do is discuss issues and strategy with senior executives and business owners, I work hard to keep my perspective wide and gather information from everywhere and everyone.
One of the most important skills of senior executives is the ability to get out of their skin and go see what other people and companies are doing, and hear what they are thinking. While second hand reports are helpful there's nothing like seeing and hearing for yourself so you can capture the full experience and learn how others deal with their issues. You can then take those things you experience, and bring them home to have handy when addressing your own issues.
Sometimes such trips even lead to new business opportunities. This agendaless trip led to my setting up a call for my dinner companion with an old friend of mine to discuss some mutual business interests, making an introduction that could lead to a consulting gig for another friend, and winding up with an introduction to the CEO of a company that may be a great partner for a new business I'm involved in building.
All because I decided to take the time to hop on a plane and meet someone for dinner a thousand miles away. And because I paid attention and talked to everyone I met along the way. You never know who's going to share the thought that solves the next issue you run into.
Today we have a test. A math test. The math is easy. The thinking behind it much harder.
A few days ago I was discussing prospective Israeli clients and global strategy projects for the upcoming Global Consulting Practicum year with Yuval Dovev, Head of Strategy and Business Development at IDC Herzliya University.  GCP is a program based at The Wharton School of The University of Pennsylvania where I spend some time overseeing the Africa and Middle East projects and partners.
As we drove between appointments, our discussion moved to the seemingly intractable issues facing Israel and the Arab countries. Suddenly Yuval asked me a math question. "Here are three numbers. 2, 4, 8. Give me another 3 numbers that follow the same rule. Then tell me other sets of 3 numbers that follow the rule until you are sure of the rule and then tell me the rule."
Take this test. Write down sets of 3 numbers until you know the rule and then write down the rule.
To make it harder for you to skip ahead to the answer,
here is a picture of the Mediterranean Sea I took from a Tel Aviv beach .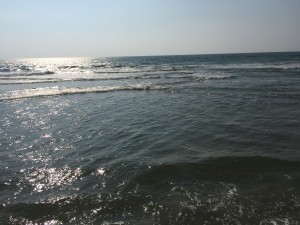 Think you have the answer now? I felt sure I did. I thought for a minute and then responded "3, 6, 12." Yuval asked if I needed to think of another set of numbers or if I knew the rule. I confidently replied "Each number is double the previous number."
By Yuval's laugh I knew I was wrong. "Each number is bigger than the one before it", he finally shared. "Everyone misses the simple and goes for the complex. And once they have what they think is the answer they stop looking to see if there are other possibilities."
"As soon as confirmation bias steps in, people only find 3 number sets that meet their bias. You were so sure of the rule you lost sight of the fact that perhaps it was only one rule of many that fit the situation. And maybe one of the other rules would lead to a better result."
In my case, this biased thinking had no consequences beyond a bruised ego. But in the case of organizations trying to find the best solutions to difficult issues, be they companies or countries, the results can be devastating. Look deep, search widely, and remember the simplest solution is often the best one.
As we drove along the border between Israel and the Occupied Territories, I thought about the many seemingly intractable issues and conflicts faced by both companies and countries.
Intractable issues? Or intractable thinking?